Scuff marks barely visible on a dusty track. Indeterminate scratches on a dry riverbed, animal dung hidden in tall grass…
The ability to read and interpret signs found in nature is a vital skill for trackers in the South African bush. It's a skill, however, that is rapidly disappearing.
Restoring an ancient art form
Once widespread among rural communities, the ancient art of animal tracking evolved for reasons of human survival. But in the past 50 years, as people have come to rely less on hunting for food, the number of skilled trackers has been in sharp decline.
"Rapid urbanisation and the forced removal of people from their land during Apartheid has destroyed the natural flow of indigenous knowledge from generation to generation," says Alex van den Heever, a conservationist who has dedicated much of his life to learning and teaching the skill of tracking.
It's a decline that he and his long-time friend and colleague, Renias Mhlongo, are trying hard to reverse with their work at the Tracker Academy.
Co- founded by Alex in 2010, with funding from the Rupert Nature Foundation, the Academy is a not-for-profit organisation teaching people from disadvantaged rural communities the traditional skills of tracking. As well as helping keep ancient knowledge alive, the Academy provides present-day qualifications and employment opportunities for its students.
The origins of the Tracker Academy
The inspiration for the Tracker Academy was born out of the firm friendship between Alex and Renias, who met some 25 years ago at the Londolozi private game reserve on the borders of Kruger National Park.
Alex was a game ranger at the reserve, Renias a expert tracker who was born in the wild and remote eastern part of South Africa. Together they took guests into the bush searching for wildlife including leopards, rhino, elephants and buffalo. Watching Renias at work, Alex soon realised just how much he could learn about the area and its wildlife from his friend.
"Renias is one of the best trackers in the world," he says. "He was born in a mud hut inside the Kruger National Park. He's one of the last people to be raised in the original traditions of a Shangaan hunter-gatherer. I realised that the way he learnt to become a tracker and a naturalist is fading."
In a bid to stop this loss of indigenous knowledge, Alex had a conversation with Gaynor Rupert, chair of the SA College for Tourism. Shortly after, his vision for an academy, where Renias is one of a handful of skilled trainers sharing their tracking wisdom, became reality. Alex says, Gaynor Rupert's decision to establish Tracker Academy in the first place, her graciousness, wisdom and continued support, has produced over a hundred formally accredited professional trackers for the ecotourism, anti-poaching and animal monitoring sectors of the conservation industry."
On the track to success
Tracker Academy will be celebrating its tenth anniversary in 2020. During that time, 150 pupils have graduated from its one-year, fully sponsored programme.
Open to 24 disadvantaged students annually, the course is taught by master trackers in three training camps across South Africa including Londolozi, Samara and Kalahari, home of the Bushmen. Pupils learn to identify the tracks and signs of animals, insects, birds and amphibians. They study ancient hunter-gatherer techniques, have lessons in conservation and learn how to identify plants and trees for medicinal purposes.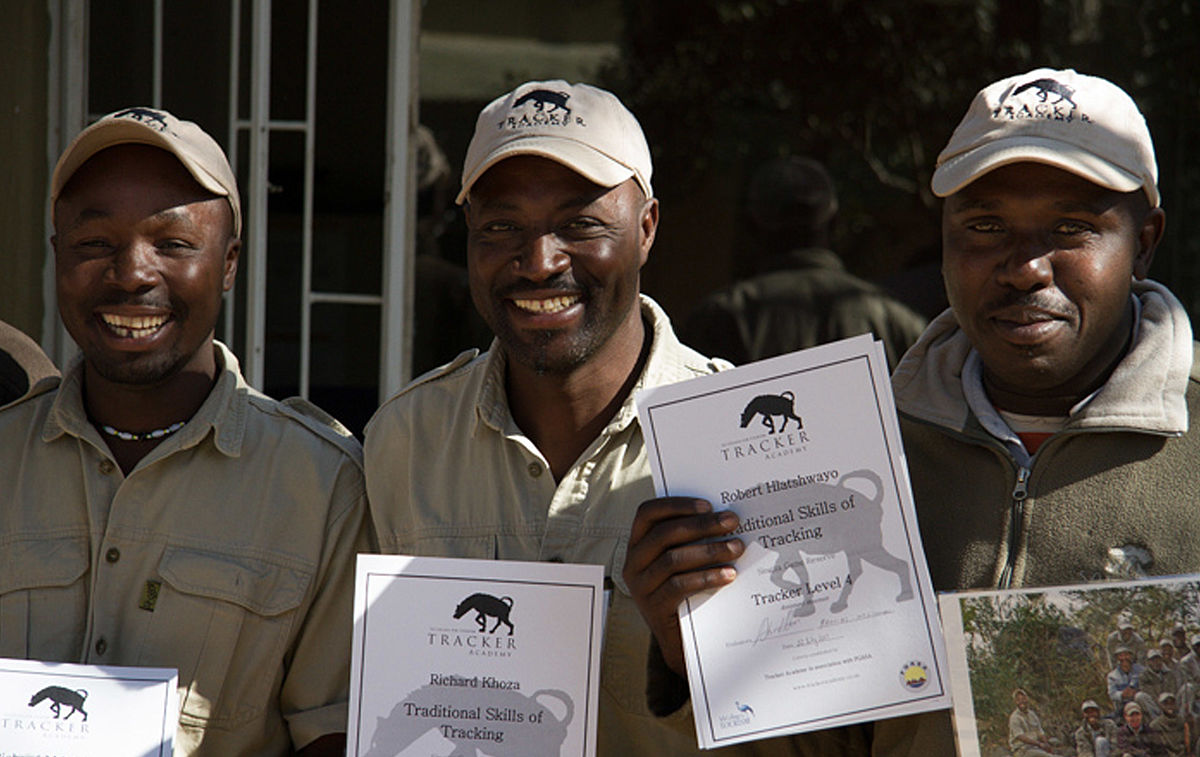 "At the time of the Academy's launch, there weren't any schools offering training or qualifications in wildlife tracking," says Alex. "We provided the first programme accredited by the South African Education Authority. We've now trained 150 unemployed men and given them a skill. Of those 150, 135 are now in permanent conservation jobs. It's been a great success."
Share